This article was once involved in the WAIP project, but has now been improved.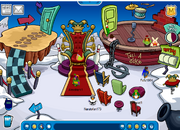 The
April Fools' Party 2010
is the fifth annual April Fool's Day that began on the March 31, 2010 in Club Penguin. It was scheduled to end on April 04, 2010, but it ended one day later. Which excited a lot of penguins because they got to play and explore more.
The April Fools' Party 2010 was first confirmed by Rookie in an issue of the Club Penguin Times where he mentioned that there would be lots of boxes in this party.
The next week the Club Penguin Times issue was a special April Fool's Party issue as there were drawings in marker all over it, the Ask Aunt Arctic section was replaced by an Ask the Rookie section, and there was a 1 off Sensei's Upcoming Events section.
Special Club Penguin Times issue
Edit
The special Club Penguin Times issue had multiple things changed in it other than drawings all over it:
The Cover Page had drawings and everything in the table of contents was replaced with "Grub"
A2 and A3 only had drawings though they did feature the April Fool's Party.
A4 and A5 had drawings and an applause button.
B1-B4 had drawings only.
B5-B7 changed from "Ask Aunt Arctic" to "Ask the Rookie".
B8 was just drawn on but it was a game that revolved around pranking other penguins.
C1 had drawings and C2 had a special hidden poem written by the Rookie about his hat.
C5 and C6 had a special daily schedule of the Sensei.
Unlike the previous April Fools Parties, the Dojo wasn't decorated at this one.
Many penguins thought that there wouldn't be one, due to the fact of there not being a St. Patrick's Day party.