Penguin style is the most popular catalog in Club penguin. Clothes can only be bought by member Penguins
, but backgrounds and colours can be bought by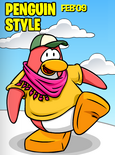 members and non-members.
Big wigs has been combined with penguin style since January 2009.
The items use to be somewhat, less related to parties and more random.
Snow and sports use to be the same as it.
On January 1st, 2010, there were many angry penguins at the Gift Shop complaining about the new catalog not being here yet so they started angry mobs. It is unknown why Club Penguin were so late.
See also
Edit