This file has been spell checked, and has also been case checked.
---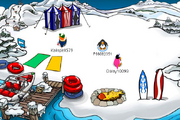 The Summer Kickoff Party 2006 was
Club Penguin
's first summer party. It ran from June 13–17, 2006, meaning that it was one of the first few parties in
Club Penguin
.
Free items
Edit
There were 4 different items and they're all listed below:
The music for it is still up on the internet, meaning that it could return. If you would like to listen to it, click Here.
If you have a filter, then copy the HTML code to a local file.
There were 4 free items given out in this, meaning that it was one of the parties with the most free items given out at.
This party was once called the Summer Party.